Comunicación ABC & Emma Lamothe - Dec 12, 2014 Comment this content
According to ESPN, there are eight cities – New York, Philadelphia, Baltimore, Atlanta, Chicago, Houston, Los Angeles, and Seattle –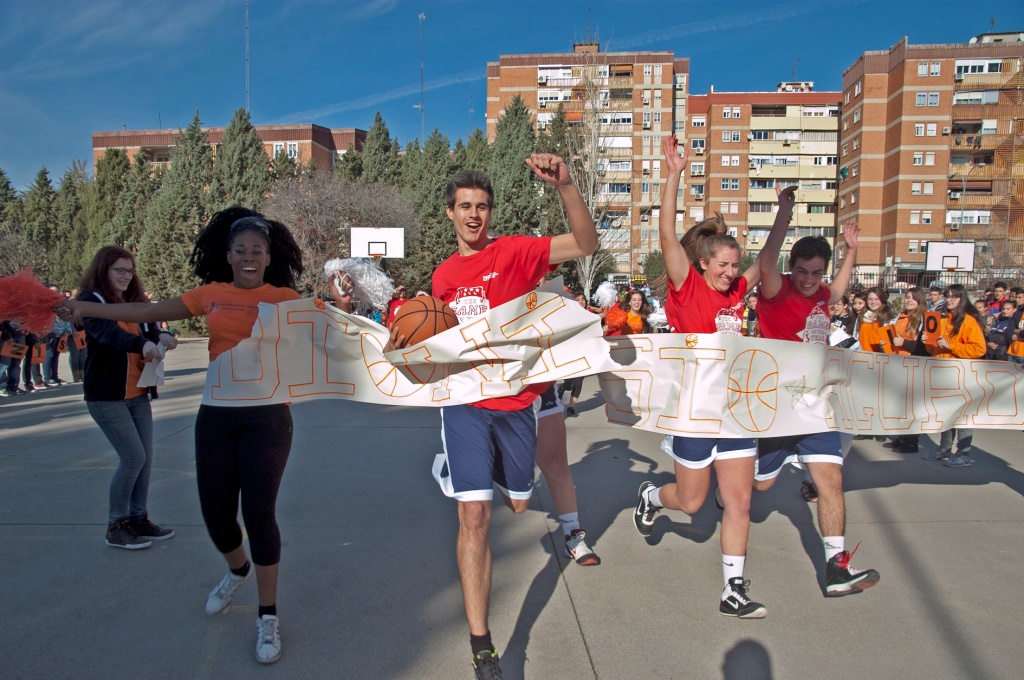 which have the most important high school basketball teams. But after seeing the team created by IES Dionisio Aguado, we will have to tell them to add Fuenlabrada to the list.
What we saw, with special guest, the great Joe Arlauckas, was a spectacular Pep Rally prepared in collaboration with Fulbright Assistant Emma Lamothe, to get ready for the game on December 17 against Dionisio's rivals from IES Antonia de Nebrija in Mostoles. It was a crazy event, a huge affair…a "Dionisan" party!
The crazy event started, in true American style, with the breaking of a Dioniso Aguado banner by the players, the cheerleaders, and the mascot, Dioni.
Next, Joe Arlauckas directed drills in which the players practiced passing, layups, plays, and defense (shout-out to number 23, Laura Martín, star basketball player!) while the cheerleaders entertained everyone with their awesome dances and the students cheered from the sidelines. Meanwhile, Coach Aníbal Sánchez gave a lesson about the fundamentals of basketball.
A big moment for the Dionisios was when the players were challenging Joe—an experienced professional—to play one-on-one under the basket, showing that they are not afraid of anything.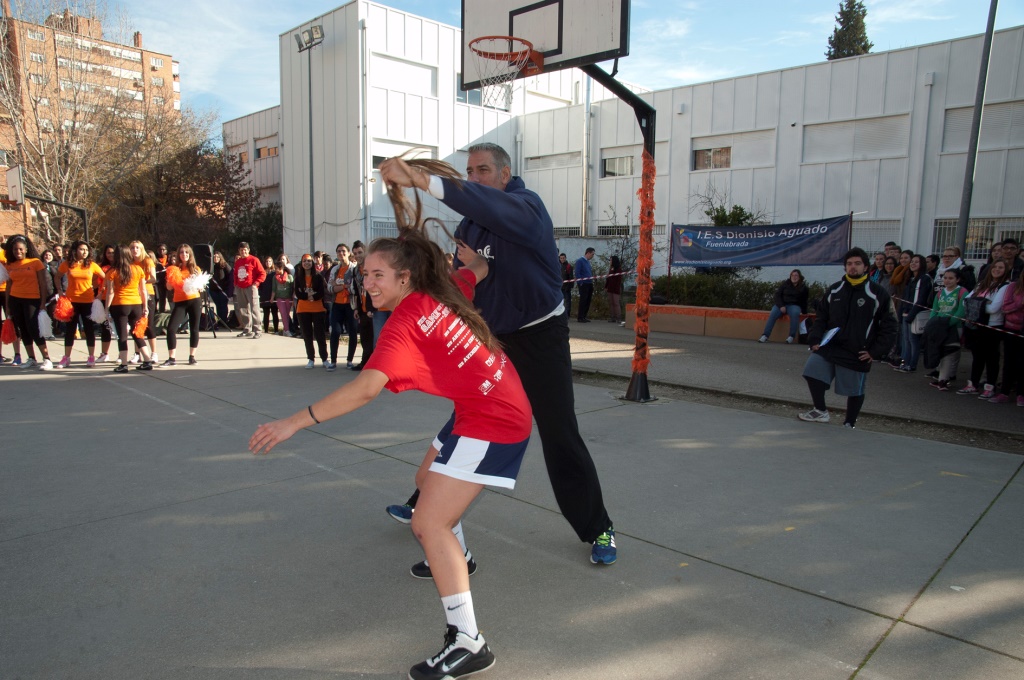 The event ended with words from the principal, Jose María Tostado, who was impressed by the passion, commitment, and relentlessness of these "Dionisios." The players, cheerleaders, and their classmates formed a big circle with their arms around each other…and of course, they shouted the famous cheer:
¡Dionisios! ¡Bien! ¡Coñ…! ¡Bien!
---------------------------------------------------
Según ESPN hay 8 ciudades, Nueva York, Filadelfia, Baltimore, Atlanta, Chicago, Houston, Los Ángeles y Seattle que son las más importantes dentro del baloncesto colegial. Pero después de vivir la que se montó en el IES Dionisio Aguado , habrá que decirles que incluyan a Fuenlabrada en dicha lista…
Pues lo que vivimos, con el gran Joe Arlauckas como invitado especial en una gran sesión de Pep Rally, preparada con la inestimable colaboración de Emma Lamothe, Full Bright Assistant de cara a su partido del 17 de Diciembre contra sus rivales mostoleños del IES Antonio de Nebrija, fue una locura, una pasada…una fiesta "Dionisiaca"
Locura que empezó de forma literalmente "rompedora "con los jugadores, las cheerleaders y Dioni, la mascota rompiendo al más puro estilo colegial la pancarta con el nombre del instituto…
Que siguió a todo gas, con Joe Arlauckas dirigiendo los ejercicios de pase, de entradas, de trenzas, de defensa… ( atentos a la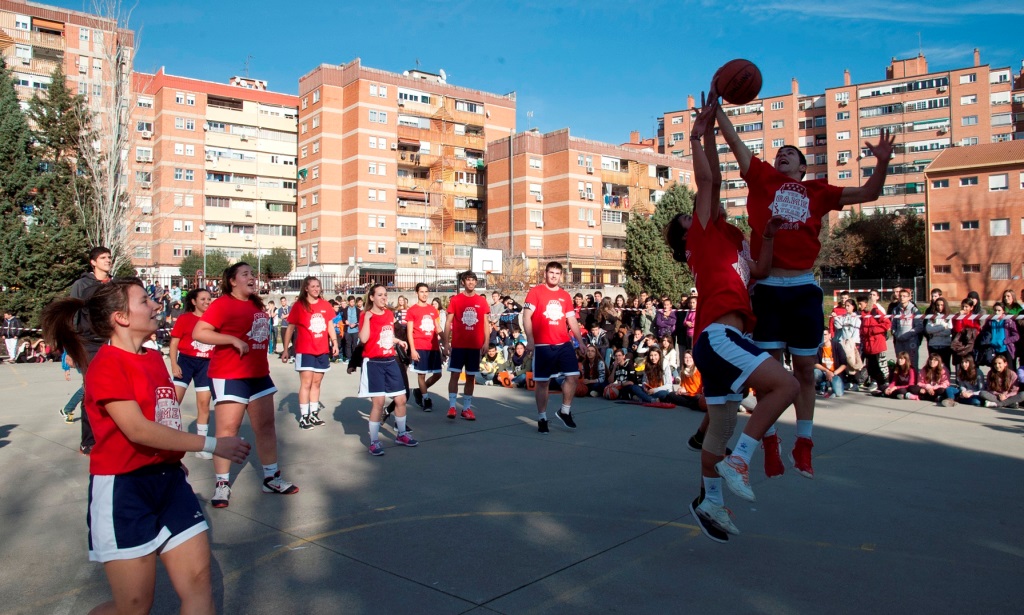 23, Laura Martín..pedazo jugadora) y con las animadoras deleitando al personal con sus explosivos bailes , con los alumnos animando a sus compañeros y con Coach Aníbal Sánchez dando una lección de fundamento y manejo de balón…
Una gran locura que tuvo su momento álgido con los Dionisios retando a un tipo como Joe a unos contra uno bajo canasta, y demostrando que no tienen miedo a nada…
Y que acabo con unas palabras del Director, Jose María Tostado, encantado por la pasión, compromiso y entrega de estos "Dionisios" y un gran circulo con todos ellos abrazados, jugadores, animadoras, compañeros …y por supuesto su famoso grito ;
¡Dionisios! ¡Bien! ¡Coñ…! ¡Bien!